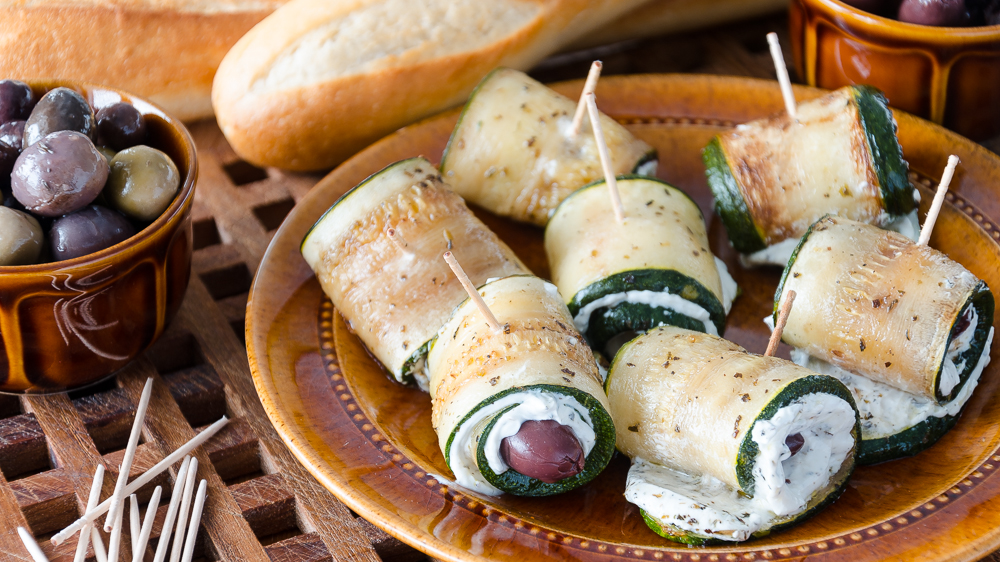 27 Dec

Zucchini rolls with cream cheese

Great idea for a simple and delicious finger food that can be served and truly enjoyed during any party, especially the vegetarian one.
Ingredients
2  zucchinis, medium size
around 300 g  cream cheese (can be replaced with goat's cream cheese)
100 g  kalamata olives, or any other variety, pitted
provancal herbs
clove of garlic, finely chopped
toothpicks
rice oil for frying
salt and pepper
Recipe
1. Thinly slice zucchinis lenghtwise
2. Spread a thin layer of oil on both sides of each zucchini slice and fry on hot frying pan on both sides until slightly brown. Allow to cool
3. Mix cream cheese with provancal herbs, clove of garlic and optionally also with salt and pepper
4. Spread a thin layer of seasoned cream cheese on each  fried zucchini slice
5. Place two olives on top and gently roll zucchini slice. Secure with a toothpick inserted in the middle of the roll and serve.