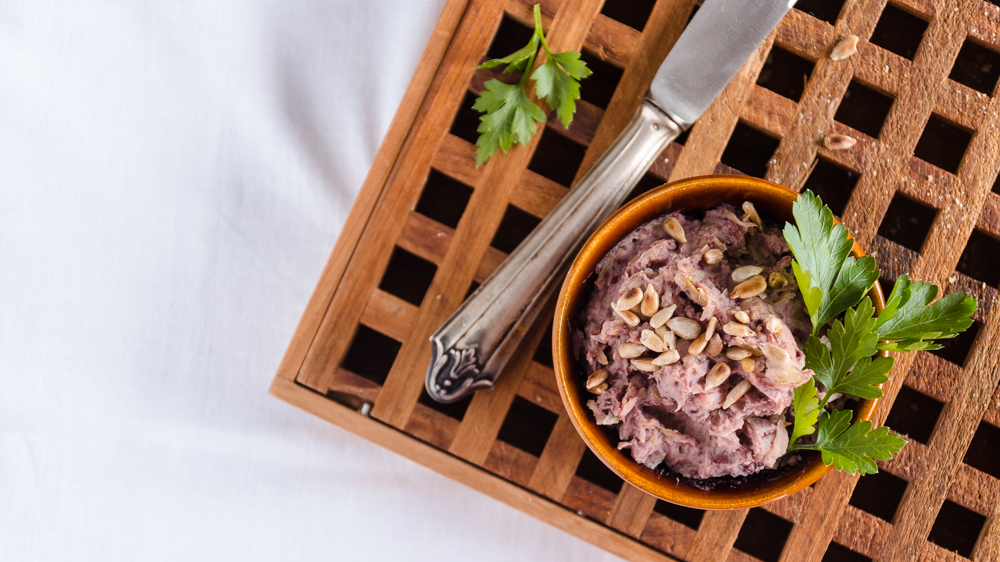 15 Feb

Red bean hummus with sauerkraut

Red bean hummus with sauerkraut is pretty simple to prepare yet delicious and superhealthy too, not to mention vegan. Not only it contains pure protein from beans, but it's also packed with good omega-3 acids from cold pressed and lots of good bacteria and tons of vitamin C from sauerkraut.
Ingredients
200 g red beans – preferably cooked, or canned if in a hurry (do not discard the water in which beans were cooked or the liquid from the can. It can be handy) 
50 g of sauercraut also called sour pickled white cabbage
flaxseed or rapeseed oil, cold pressed
freshly ground pepper and salt 
1 tablespoon of sesame seeds 
1 tablespoon of sunflower seeds 
chopped parsley for decoration 
Recipe
1. Blend red beans with cold presses flaxseed or rapeseed oil until smooth spread is formed. Add ingredients gradually. Season carefully and gradually. If you want your spread to be lighter and not so thick, you can replace part of olive oil with water in which beans were cooked or the liquid from the can.
2. Chop sauerkraut finely
3. Stir in chopped sour pickled cabbage into red bean paste
4. Season with salt and pepper
5. Roast sesame and sunflower seeds on a dry pan. Take special care not to brown them too much, since sesame seeds have tendency to brown very qiuckly.
6. Serve red bean hummus as a spread with a bread, sprinkled with freshly chopped parsley and roasted sesame and sunflower seeds.